Griffith Observatory, L.A.
Wednesday, 25th May 2005 by James Turnbull
In Los Angeles' Griffith Park sits the Griffith Observatory. Opened in 1935 the observatory has featured in numerous movies such as 'Bowfinger', 'Charlie's Angels: Full Throttle', 'Dragnet' and the climax of James Dean film 'Rebel Without a Cause'.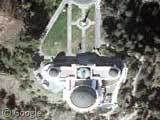 Thanks: Scott Ventura, Jisch & others.