Hojack Swing Bridge
Monday, 13th June 2005 by Alex Turnbull
This is the Hojack Swing Bridge on the Genesee River near Lake Ontario, which is slated for destruction. Seems a shame, 'cos it looks pretty cool from up here. Scott Ventura says:
There's a movement afoot to save the bridge (which also has a ground-level photo), but the Coast Guard wants it gone since the owners (a train company) haven't used it in years.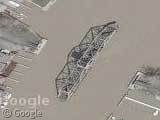 A little to the east lies the mouth of Irondequoit Bay, where you can see a pivoting roadway that closes off the bay from the lake in the winter months. The roadway, which forms part of Lake Road during winter, is visible here on the west bank in it's its storage position. I've been told that it takes fifteen minutes to rotate it at the beginning and end of the season.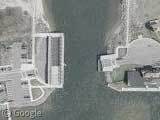 Thanks to Scott Ventura.