Augusta National Golf Course
Tuesday, 14th June 2005 by Alex Turnbull
This is Augusta National Golf Course, site of The Masters. Our image here is of 'Amen Corner', at the very bottom centre is the 12th green just over Rae's Creek. There's a map of the course over at the official site, but bear in mind it's the other way up from the satellite image!
And yes, we realise we missed the masters this year, but I wasn't sure you lot could wait another 10 months! 😉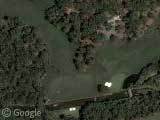 Thanks: Scott Mcdaniel, Rodney, David Burton, Jeff, Mark, Jon Livingston, Dave Austin, Bonehead, Robert Donlan, Kris Johnson, Stilt, Brian, bunchofgrapes, Chris B, Duane Homick, Stranger, Le6o, Matt Heinbaugh, Ben, Johan Lindholm, Amy and Michael Smith.