Yellowstone National Park
Saturday, 4th June 2005 by Alex Turnbull
Lots of things to see here in Yellowstone National Park, it's just a pity we can't see any of the grizzly bears, wolves, or free-ranging herds of bison and elk!
First up is the world famous Old Faithful Geyser, it's in the middle the concentric walkways you can see in our thumbnail. Old Faithful was so-named because of the reliability of its eruptions, which are currently happening about every 65 minutes, unfortunately it's not erupting in our picture. 🙁 Of the 1000 or so geysers in the world, about half of these are in Yellowstone. If you look closely on the walkway, I think you can actually see people watching for an eruption.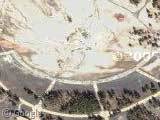 Next up are these fantastic waterfalls at the mouth of the Grand Canyon of the Yellowstone, whose yellow-coloured stones gave the park its name.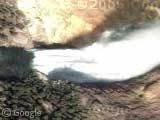 Finally we have the awesome Grand Prismatic Spring which is the largest hot spring in the United States, and the range is colour shown here is incredible. The blue-white pool to the Northeast is Excelsior Geyser, although it's been dormant since 1990.
The colours in the spring are produced by different species of thermophilic bacteria that live in the narrow temperature ranges formed as the waters of the hot spring naturally cool farther from the heat source. The reddish bacteria at the outer edge survive in the coolest water with the yellowish and greenish bacteria living in progressively hotter water. The water in the central blue area of the spring is too hot to support any of the bacteria.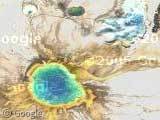 Lots and lots more information about Yellowstone National Park is available on Wikipedia, and the official Yellowstone site even has a webcam of Old Faithful .
Thanks to (and this may be our longest thanks list yet!) Brian Ralli, Rick, Tom Gula, Balazs Ganszky, MIke, dx, CosmicPenguin, Chris Prince, Rosewood, Jeff, spaz, Ballard, Brian, JasonRene, Corey Vilhauer, Benjamin, Peter Szabo, Kyle, Tim, Chris Shinkle, Dick Nielson, Wayne, Ray Bellis, Zoltan Horvath, Jens Kilian, mark, J. Gable, Kimon Berlin, Laura Vance, Sparky Treewaller, Matt, Don S, Jared Roberts, Fakus Namus and last but by no means least Rebecca Ray. Thank you everyone!