Rajpath, India
Sunday, 31st July 2005 by James Turnbull
Please note that some or all of the objects mentioned in this post are no longer visible on Google Earth or Google Maps.
Updated Post
The Rashtrapati Bhavan is the Official residence of the President of India. At the back of the building you can see the 13 acre gardens with Mughal style canals and fountains.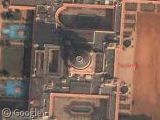 To the east is the Rajpath ('Kings Way'). Along the Rajpath there is the Republic Day Parade, an annual celebration of the adoption of the Constitution in 1950. As there is not much crowed along the road this could be the dress rehearsal of the parade which is held on the 24th of January each year. The parade starts here and you can follow it all the way along to the India Gate, a memorial built in commemoration of Indian soldiers who died in World War I and the Afghan Wars.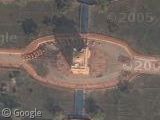 As the procession continues past the India Gate you can see an aeroplane on the north-west side of the roundabout, and on the north-east side the large cylindrical object is apparently a AGNI-II, an intermediate range ballistic missile.
Thanks: Sathish, Bill Kendrick, Manoj Govindan, donald, Ashutosh Rajekar, Ananya Gupta, Sarathy, Clint, Ashok M & DDA