Gateway of India, Mumbai
Thursday, 7th September 2006 by Alex Turnbull
Mumbai's most famous monument, the Gateway of India was traditionally the first thing visitors arriving by boat would see of the city. The Gateway is 26 metres high and was built to commemorate the visit of King George V and Queen Mary (although the city was called Bombay back then), and fittingly, it was through the Gateway that the last British troops passed as they left India for good.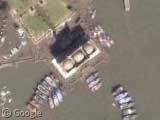 You can see there's lots of tourists milling around here, and you can also see the boats which might to take you to the famous caves of Elephanta Island – which were hewn from the living rock between the 9th and 13th centuries and contain many magnificent carvings.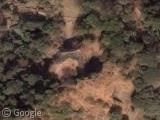 There's also thousands of other cool things to look at around here (Mumbai has the highest population of any city in the world after all) – so why not take a wander and send us what you find!
Wikipedia: The Gateway of India and the Elephanta Caves. Thanks to Kim Singh, Rushikesh Jukar and Shreeraj Doshi.