World's Largest Sundial
Thursday, 23rd April 2009 by Evan Brammer
In the heart of the "Pink City" of Jaipur, India exists a centuries-old observatory used for numbering the stars and counting the minutes.
Though outdated in terms of its technological prowess, the stationary instruments at Jantar Mantar continually prove their relevancy in astronomical science, as well as currently holding the record for world's largest sundial, towering as they do at over 27 metres tall.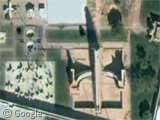 The Samrat Yantra, meaning "The Supreme Instrument", is used for calculating the time of day to the exact second using the position of the dial and the shadow it casts from the sun. If an astronomical observer knew the time it took a prominent star to transition the sky, they could even use the Yantra tell the time at night.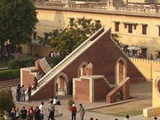 Maharaja Jai Singh II built Jantar Mantar early in the 17th century as one of five such astronomical observatories throughout India. This particular observatory is the largest of the them all and is based upon the observatory built in New Delhi (below). The other three can be found in Ujain, Mathura, and Varanasi.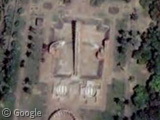 James has previously put together some instructions for reading sundials on Google Earth - who thinks than can work out the exact time these images were captured?