The Jurassic Coast
Friday, 24th April 2009 by Alex Turnbull
The Jurassic Coast is a 153 km stretch of the English Channel coastline that is world renowned for the incredibly diverse nature of its geology – so much so that in 2001 it became only the second natural landmark in the UK to be granted protection as a World Heritage Site.
The site stretches from Orcombe Point near Exmouth all the way to to Old Harry Rocks near Swanage, and its entire length can be walked on the South West Coast Path, with some wonderful sights to see along the way.
Lulworth Cove
The coastline at Lulworth Cove is concordant, meaning that through movements in the earth's crust layers of rock have been folded up parallel with the sea.
The entrance to the cove is through a limestone strata, that was widened through erosion by both the sea and glacial melt waters. As the entrance gradually increased in size the softer clay behind was eroded more quickly, giving rise to the spectacular cove we see today.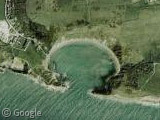 Just to the west is Stair Hole, which is one of the finest examples of limestone folding in the world, and which lets us see how Lulworth cove would have looked only a few hundred thousand years ago.
Durdle Door
A couple of miles further west is the spectacular limestone arch known as Durdle Door, which has featured in many music videos and several movies.
Here the limestone strata is thinner and has been more severely eroded – and where it is thinnest it has been eroded right through to form Durdle Door. Taking a more general overview of this area we can clearly see the remnants of the original course of the limestone.
Black Ven
Black Ven is one of the largest active landslips in Europe, parts of which continue to get lost to the sea, and it's famous for the abundance of fossils that are revealed as the cliffs continue to crumble.
The fossil history here is incredibly rich – for example it was in the nearby town of Lyme Regis that the first complete Ichthyosaur fossil was discovered, and I have personally walked out onto the beach at Lyme, cracked open a rock, and found a fossil of my own.
Other history
For Geologists and Paelentologists the Jurassic coast really is a dream come true – we could go on for hours about places like Ballard Cliff, Chesil Beach and the Isle of Portland. We've not even touched upon human history here, like when during World War II several sections of the Jurassic Coast became property of the Ministry of War, leading to the abandonment of the village of Tyneham.
While there's nothing quite like visiting somewhere like this in person, Wikipedia has enough about the Jurassic Coast to keep you clicking around for hours. Also, the official Jurassic Coast website has a wealth of information!
Thanks to many a BBC documentary, Laurence Madill, my high school geography teacher Mr. Woods, and several holidays of my own.