Hurricane Katrina
Wednesday, 31st August 2005 by Alex Turnbull
Hurricane Katrina has torn through the United States causing untold damage and horrendous loss of life. Katrina has destroyed the eastern part of the I-10 bridge over Lake Pontchartrain (shown here before it was damaged), flooded 80 percent of New Orleans, and damaged the roof of largest domed structure in the world, the Louisiana Superdome.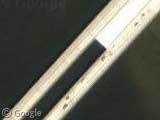 The worst affected states, by this, the third most intense system to strike the United States in recorded history, are Louisiana, Mississippi and Alabama. It is believed that Katrina is, (in monetary terms) the most costly hurricane to affect the USA, and sadly may yet also become the most costly in terms of human lives.
For more information about these events, I recommend the Wikipedia page on Hurricane Katrina, which is updated continually as information becomes available.