Concorde Hunt
Monday, 29th August 2005 by James Turnbull
Please note that some or all of the objects mentioned in this post are no longer visible on Google Earth or Google Maps.
Researching my recent Le Bourget Airport post I discovered a couple of Concordes on display and, seeing as there were only ever 20 of them built, I decided to see how many I could find on Google Maps.
Le Brouget houses the remains Aircraft 203 which disastrously crashed in July 2000 and Aircraft 211 which was scrapped for parts. Also in one of the hangers is the very first Concorde (001). The outside display features Aircraft 213 however the satellite photos are out of date so the Concorde cannot be seen.
Concorde 102 was the fourth plane built and the last of the preproduction aircraft. It has been on display at Orly Airport since the 1970s and replaced a full-size wooden replica Concorde that had been lost to a fire.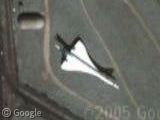 Outside the Aerospatiale HQ at Toulouse Airport (near where the Airbus 380s are assembled) is Concorde 201, the first "production" Concorde although this plane never went into service.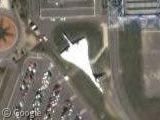 Also at Toulouse to the north is Concorde 209 which was the last of Air France's Concordes to fly. After the disaster in 2000 the plane was stranded in JFK airport for three months while its safety was assessed so I'm pretty sure that the previously posted satellite photo of a Concorde in JFK is also Concorde 209 (although due to image updates it's no longer visible on Google Maps or Google Earth).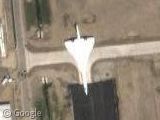 Also missing due to the outdated photos in Aircraft 210 which is on display at the previously posted Intrepid Air and Space Museum, New York.
So I only managed to find 3 Concordes (one of them twice), the rest are either in parts of the globe where resolution is too poor to see them or they are stored indoors, for a full list of their locations see the Fleet overview.