Smithsonian Air & Space Museum
Monday, 31st October 2005 by James Turnbull
As the largest collection of historic air and spacecraft in the world the Smithsonian Institution's National Air and Space Museum is spread over a couple of locations. The main display facility is right in the heart of Washington DC, although all the aircraft are stored indoors so it's not much to look at.
The companion facility, the Steven F. Udvar-Hazy Centre was opened in December 2003 but in the aerial photo it is still under construction (so no planes to see). The completed hanger currently houses hundreds of aircraft including Concorde 205.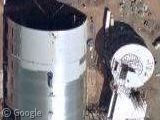 The Smithsonian Institution also have two aircraft on permenant display at Dulles International Airport (finally, some planes!). The one to the north is a Lockheed C-130 (one of more than 2,000 built) and the one to the south a Lockheed Constellation (which were the first pressurised aircraft in widespread use).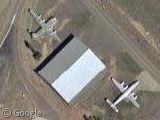 Thanks: Kirk & Marquis de Sade