Ne Mutlu Türküm Diyene!
Monday, 15th August 2005 by Alex Turnbull
Deep in the Asian part of Turkey is this giant image of the Turkish flag. The writing (which is Turkey's national slogan), says 'Ne mutlu Türküm diyene', meaning 'How happy is he who can say "I am a Turk"'.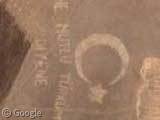 Thanks to Ali Ok.