Qatar Oil Industry
Thursday, 4th August 2005 by Alex Turnbull
Check out this port in Qatar. Shake says:
Is that an oil spill in the water? Because it looks like that tanker is capsizing and some other small boats are trying to push it back.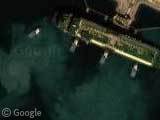 We weren't sure however. Could it not be that the tugs are just moving the tanker into place, and that the swirls in the water are formed by sediment being thrown up? Regardless, it's a cool image.
A little further west is this burning thing, and along the coast a little is this really cool spout of water emptying into the sea. Can someone explain these sights?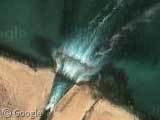 Many thanks to Shake, Stephane and Todd Day.