Museum of Science and Industry, Chicago
Wednesday, 29th March 2006 by James Turnbull
Chicago's Museum of Science and Industry is home to many exhibits including a coal mine, a 3,500 square foot model railway and the U-505, which can be seen in the middle of the thumbnail below.
Captured off the coast of West Africa in 1944, the U-505 is the only WWII German submarine that was successfully captured by the United States. This was apparently quite a feat as the departing crew had, as they were trained to do, set timebombs and opened up water holes in an attempt to scuttle the sub.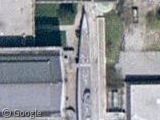 Thanks: Chris, The Peter Files, Chad, Denis & Ross Wirth.