Château de Versailles
Thursday, 22nd September 2005 by Alex Turnbull
With more than 67 staircases, 700 rooms, 1250 fireplaces, 2,000 windows and more than 1,800 acres of grounds, this is the awesome royal Château de Versailles outside Paris, France.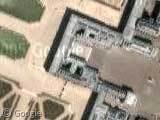 I visited Versailles about 15 years ago (eek!) and it truly is unbelievable how ridiculously, stupidly, horribly extravagant the whole thing is. I mean, just look at the size of the grounds, I have to go to zoom level 3 to fit them all in!
As always, loads more information about this ostentatious sight is available at Wikipedia, the official site is nice, there's a good photo gallery here, and if you're really interested, here's an interactive map 🙂
Thanks: cacafuego, Carson Diltz, Donald, Justin Mancinelli, Errabes, Tim Maffett, Dan Slawe, Randy Johnson, Dave Edmunds, Dave Isaacs, eRez, Erwin, elbisreverri, Julien, Chris, Andrew White, Jeff Vinocur, ringo, victor, Ben Singleton, stz, Daniel, Ignacio, Steve Wallis, Maki Fok, Tom, Skinny-boy, Joe, Jerry, and Steve!