Location, Location, Location
Thursday, 22nd September 2005 by Alex Turnbull
This is the tiny Scottish island of Little Cumbrae in the Firth of Clyde, near Glasgow. It has a jetty, two cottages, three vacant houses, a lighthouse complex and a twelve bedroom baronial mansion... and it's currently for sale.
The price? A cool 3 million pounds.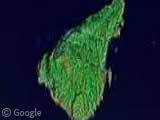 There's more info about Wee Cumbrae over at Wikipedia.