The Armadillo & the SECC
Friday, 26th May 2006 by Alex Turnbull
This is the Armadillo in Glasgow.
Oh all right, it's really the Clyde Auditorium, but everyone calls it the Armadillo. It was designed to be a 3,000 seat extension to the boxy beige building to the north – the Scottish Exhibition and Conference Centre, which was the largest exhibition hall in the whole of the UK anyway.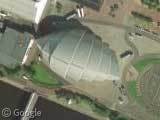 Obviously comparisions have been made between the design of the Cylde Auditorium and that of the Sydney Opera House, and yet the architects, Foster and Partners, claim it wasn't the inspiration for the design.
I agree, it looks more like they just stole it outright. 😉
Thanks to Tom.