Oslo Opera House
Monday, 1st December 2008 by Alex Turnbull
Rising from the waters of Oslo Fjord, Norway, is the absolutely incredible Oslo Opera House. Designed to speak of the sheets of ice that formed the fjords of Norway, the huge white slab of angular building could almost be mistaken for an actual ice floe.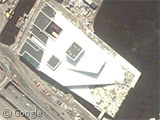 Designed by the architects Snøhetta, and opened in April this year, the Opera House features a huge sloping roof that runs past either side of the foyer, tapering all the way down to the water's edge. Best of all, visitors can climb all over it (possibly thanks to Norway's refusal to join the fun police - Er, I mean the European Union).
Italian marble and granite account for the striking whiteness of the exterior, but some sections are also clad in aluminium punched with spherical forms, and the interior is awash with dark, sculpted oak.
Unfortunately the Opera House wasn't completely finished in these satellite images, so it's worth having a look through this Flickr pool - as the building is truly stunning now that it's done.
Arcspace.com has a good photo tour of the whole building, The Times did a story about the launch event, and there's more at Wikipedia of course.
Thanks to James McKay.