The Whampoa
Monday, 26th September 2005 by Alex Turnbull
Has an extremely drunk captain parked his ship in-between these buildings? Nope, this is actually The Whampoa, a ship-shaped (haha!) shopping arcade in Hong Kong.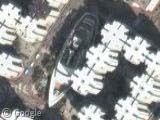 According to their website, the Jusco Whampoa Store offers:
one-stop-shopping facilities to customers, including fashion, footwear, handbags, household items, electrical appliances, cosmetics and food.
No boats then? Huh.
Thanks to Fabien Cornu and Kam Tsang.