Chicago's Midway Airport
Wednesday, 2nd November 2005 by Alex Turnbull
This is Chicago's Midway Airport and yes, at the end of all the criss-crossing runways, and surrounding it on every side are houses. Midway is smack-bang in the middle of a residential area.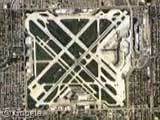 Fortunately the airport has these tiny little buffers in place, presumably to stop any plane that might overshoot the runway from ploughing headlong into the junction on the other side of the fence. Scary stuff.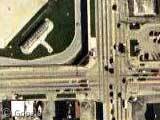 These images were taken around 5 years ago, whilst the airport was being completely rebuilt (without ever closing), and you can clearly see where the old terminal building (with the black roof) has been partially torn down.
Just to the east of the new terminal building you can see the then brand-new multi-storey car park (which has some really cool exterior circular ramps joining the levels together), and slightly further east again is the Chicago Transit Authority's Orange Line train yard. Speaking of trains, there's also several other enormous trainyards in the area.