The World's Worst Airport Terminals
Tuesday, 21st February 2012 by Chris Hannigan
A list of the best and worst airport terminals in the world has recently been published on frommer.com, and despite some cities making the list more than once, the results span the whole globe. However rather than tell you all the great airports you'll never be lucky enough to set foot in, instead we're going to highlight exactly which airports you should do your very best to avoid.
Beauvais Airport, Paris
Paris-Beauvais is an interesting airport because it's really not one of Paris's main airports. Unlike the relative proximity Charles de Gaulle and Orly have to the centre of Paris, Beauvais is located 85 km outside the city. Smaller, low-cost airlines use Beauvais as a way to get passengers near(ish) Paris without having to deal with the prices of flying directly into the city. The frommers.com article calls Beauvais's terminal "the pits", and likens it to a "general half-tent, half-warehouse atmosphere." Sounds great. And you've still got an hour to go before you get to the city!
Charles de Gaulle Airport, Terminal 3, Paris
It may be Paris's best known airport, but Charles de Gaulle Airport didn't make it away unscathed. Their terminal 3 made the list ranked as the 4th worst terminal in the world. Like Beauvais, it has also been compared to sleeping in a warehouse, a fact that could be attested to by the large homeless population that lives here.
Sheremetyevo Airport Terminal B & C, Moscow
Moscow's largest airport made the list at number 3 with terminals B and C. Some of the reviews over at sleepinginairports.com said that "the atmosphere in the terminal building is awful", it's "dark like a cave", and just plain dirty. One commenter says "If Putin really wants to clean up his country, this is where he should start".
All three major airports, New York City
Not good news for passengers flying through New York – all three of New York City's major airports made the list of world's worst airport terminals. Terminal B at Newark Liberty International Airport clocked in at number 7, mainly because of the location of security checkpoints before each pier. If you want to get food, your choices are limited unless you liked to get frisked.
New York LaGuardia Airport's US Airways Terminal drops in at number 6 on the list, and frommers.com calls it "dull and sad" with limited options for food and services. Not what you would expect at one of America's top national airports.
New York JFK Airport's Terminal 3 made the number 1 spot on the list of world's worst terminals. Why? Frommers says: "Terminal 3 is the worst single airport terminal in America, and probably in the Western world. Even Delta acknowledges this: they're tearing it down and replacing it with a giant glass structure connected to the nearby Terminal 4. It's unsalvageable." Ouch.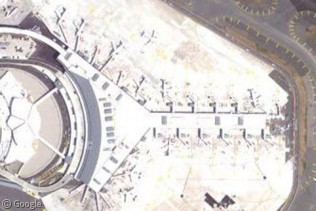 In stark contrast, New York JFK Airport Terminal 5 was rated number 5 on the list of best airport terminals in the world. Flyers can thank the airline JetBlue for providing new, modern services and really doing a good job offering a comfortable layover opportunity. It's also been said that terminal 5 has the best airport food court in New York City.
What are your worst (or best) airport terminals to fly to?
Read more about these terminals see the full list at frommer.com.