Le Bourget Airport
Tuesday, 23rd August 2005 by James Turnbull
Near Paris, Le Bourget Airport features the "French Museum of Air and Space" and the Paris Air Show every second year. The airport is most famous as the landing point of Charles Lindbergh's historic solo transatlantic crossing in 1927 but these days in only used by business jets.
The museum features numerous air and spacecraft, including real-sized copies of Ariane I (shortest) and Ariane V (tallest) space rockets and the first Boeing 747 that Air France had in service. If you look to the entrance of the museum you can see three "Fuga Magister" planes of the French national aerobatics team mounted at funny angles (ground level photos).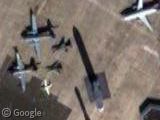 Thanks: Julien, Daniel, Daniel, David Bober, Fabien Cornu, Wizou & blouet.