Tower Bridge and the Tower of London
Tuesday, 23rd August 2005 by Alex Turnbull
Often incorrectly referred to as 'London Bridge', this is in fact Tower Bridge. There's a story which claims that when American entrepreneur Robert P. McCulloch bought the original London Bridge in 1968 and had it rebuilt in Lake Havasu City, Arizona (low-res only I'm afraid), he was under the impression that it was actually Tower Bridge that he was buying.
Tower Bridge isn't actually named for it's own towers, but for it's proximity to the nearby Tower of London, which is the home of the Beefeaters, the ravens with clipped wings and the Crown Jewels. The Tower doesn't just have one tower though, it has twenty-one!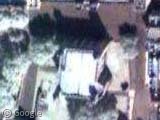 Also of note in this frame is the HMS Belfast, a floating WWII memorial, and the Greater London Assembly building.
As ever, Wikipedia has loads more information about Tower Bridge, London Bridge, the Tower of London, HMS Belfast and the giant glass testicle Greater London Assembly building 😉
Thanks to Patrick, Phil Henry, Greg Askins, Azhar, Sam Quick, Darin, Sean, Damien Saunders and Anand Patil.