Manchester Airport & Manchester Football
Tuesday, 15th November 2005 by James Turnbull
Please note that some or all of the objects mentioned in this post are no longer visible on Google Earth or Google Maps.
Manchester Airport is the third busiest airport in the UK so there's planes to see all over the place as well as a passenger jet coming in to land.
Also dotted around Manchester Airport there's giant footballs painted on the grass, one in the middle of some planes, and two at either side of the runway. This is the logo of the Champions League so the satellite photo might have been taken around May 2003, when the final between AC Milan and Juventus took place at Old Trafford.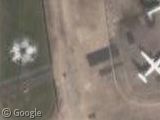 Old Trafford is the home to one of the most famous football clubs in the world, Manchester United. The stadium is currently undergoing renovation to add corner seating stands and will host preliminary men's and women's football matches during the 2012 Olympics.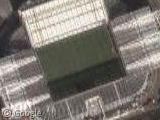 The City Of Manchester Stadium is the home to Manchester City Football Club and was constructed for the Manchester Commonwealth Games in 2002. The stadium is also home to B of the Bang, the tallest sculpture in the UK (although I don't think it had been constructed when the satellite photo was taken).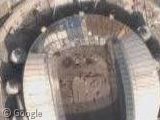 Thanks: Adam, Nick, Stephen Jackson, Brad Middleton, Andy, Alexander Danling, David de Hora, Ali Wightman, Mark B, Peter Bindon, redstar1, Jake Danesh, Slepek, Jayson Gabler, Andy Shelbourne, Simon Cope, chris, Shane, Bryan Robson, Simon Sutcliffe, David Y, smspro, Fai Sheng, redstar1