World's Largest Football?
Wednesday, 5th April 2006 by Alex Turnbull
Here in Niigata, Japan, we can see what may well be the world's largest football! Presumably it's a gas tank of some sort - can anyone translate the japanese?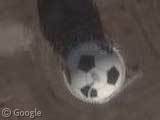 It's likely that this ball was decorated for the 2002 World Cup, as some of the games were held at the nearby 42,300 seater Niigata "Big Swan" Stadium, so named for the super-cool roof, which apparently represents the wings of a resting swan.
Thanks to Jerome.