Scientology vault
Monday, 28th November 2005 by James Turnbull
These two giant inter-locking circles encapsulating diamonds apparently signify the 'secret' location of a huge Scientology vault which has been constructed to protect the writings of L. Ron Hubbard, etched onto stainless steel and stored in titanium cases.
According to former members of the group, future Scientology fans will be able to travel through time and space, in a spacecraft which looks a lot like a Douglas DC-8 airliner, to reach this site.
More about the area in a recent Washington post article.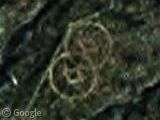 Thanks: hominid & phillias