The Christian Radich
Thursday, 17th November 2005 by Alex Turnbull
This is the Christian Radich, a 62 metre full-rigged Norwegian sailing ship moored in her home port of Oslo. Launched in 1937, she served in WWII and to this day still embarks on transatlantic voyages. You can also charter her for business meetings... or piracy, whatever.
The Christian Radich even features in its own movie, Windjammer: The Voyage of the Christian Radich, made way back in 1958.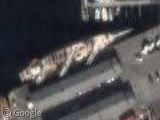 More about the Christian Radich at Wikipedia.
Thanks to William Eckley.