77 Water Street Biplane
Tuesday, 31st January 2006 by Alex Turnbull
Crazy, but there appears to be a biplane, complete with runway, on the roof of 77 Water Street, NY.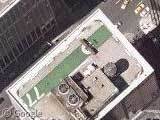 So what's it doing there? NYC Architecture says that it's a a full-size model of a WWI Sopwith Camel, designed by Rudolph de Harak and built in 1969 – primarily to amuse the inhabitants of surrounding scyscrapers, notably the World Trade Center.
You can rotate around the plane on Windows Live Local, but bear in mind that sometimes the other buildings will obstruct your view. For the ultimate in close-ups, here's a fantastic photo from a neighbouring building.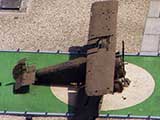 Thanks to Chris and Maté Tamasko.