Kastellet, Copenhagen
Thursday, 12th January 2006 by Alex Turnbull
This is the 341-year-old Kastellet in Copenhagen, Denmark – one of the best preserved fortifications in Northern Europe. King Christian IV originally had the star-shaped island built to house a castle for him to hide in (should the need arise), but due to "economic constraints" the castle was never built.
Today the island functions as a military area and has a museum, park, its own church and even a windmill… this is Denmark after all!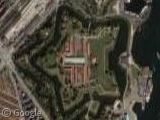 There's some more info at Wikipedia.
Incidentally, this is also the site of the Little Mermaid, but it's too small to see anything much. Is it any better on Google Earth? (Roll-on the final Mac version…!)
Thanks to Troy Fuqua, Corey