Thames Barrier
Wednesday, 18th January 2006 by Alex Turnbull
This is the bizarre-looking Thames Barrier on the River Thames, London. Opened in the 1980s, the barrier is designed to protect London's low-lying areas from flooding, and is the world's second-largest movable flood barrier (after the Oosterscheldekering in the Netherlands – no hi-res though I'm afraid).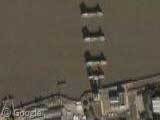 Between each of the piers are the gates themselves, which rotate up out of the water to form the flood barrier. In the image captured on Google Maps you can see that one of the gates has been rotated into what looks like the 'underspill' position, to allow for maintenance.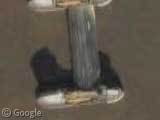 For lots of information and some good photography check out the Thames Barrier Wikipedia page.
Thanks to neil, Reagan Blundell, Alan, Lee Bennett, Dee and Tim Reid.