Southend Pier
Friday, 10th February 2006 by Alex Turnbull
This is Southend Pier in Southend-on-Sea, England. At a staggering 2,158 metres, it is officially the world's longest pleasure pier. Work began in 1887, and at the peak of its popularity in 1949, Southend Pier had 7 million visitors.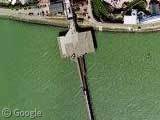 Southend Pier really is absolutely humongous, and there's all sorts of stuff to see. There's a funfair with loads of rides on the shore, there's some people wandering around, there's a train on the pier (yes, it has it's own railway to get you to the end), and you can also see where the track splits to allow the pier's two trains to pass.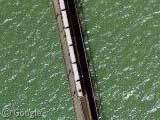 Unfortunately the pier was damaged by fire late last year, and not for the first time either - it previously suffered conflagrations in 1959, 1976 and 1995! However the Google Local shots shown here are from before the fire, so you can still see the now-destroyed train station and restaurant. There's also a visitors centre here too.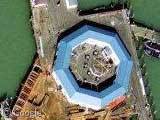 One more interesting tidbit - Southend Pier was featured in the end credits of Minder, if anyone other than me remembers that show!
The Southend Pier Wikipedia page has loads more info, and for more extremely long things like this, see the previously posted Extremely Long Jetties.
Thanks to Jonathan Rawle, Remko Jansen and Cookie Monster.