Jim Onan's Pyramid House
Tuesday, 4th April 2006 by Alex Turnbull
This is Jim and Linda Onan's Gold Pyramid House in Wadsworth, Illinois. Yes, it really is a six-storey gold-plated pyramid in the middle of Illinois – and apparently it's the world's largest gold-plated object.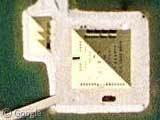 Near the entrance to the grounds you can also spot a 64-foot statue of Ramesses (not sure which one though), and just to the west of the main pyramid are three smaller pyramids, which join to form a three-car garage. Practical huh?
Thanks to Barry Scott, David Reeves and Seth.