Lanzarote
Tuesday, 20th June 2006 by Alex Turnbull
Thanks to the brand new image update, Google maps' satellite imagery now covers the Spanish island of Lanzarote in glorious high-resolution imagery – just in time to make this year's volcano day! Lanzarote is a volcanic island which consists of literally hundreds of volcanoes – far too many for me to point them all out, but here's some highlights:
Make sure you do scroll around to get a proper feel for the place though. You could even drop by the the tourist trap to watch guides throwing branches into the ground to be set alight by the heat below the surface!
Wait. That was when I was actually there, and not something I saw in these images….
I was on Lanzarote years ago for a family holiday, which seems strange now as the place should probably be nearly inhospitable – a quarter of the island's surface is covered by lava, of 213 km of coastline only 10 km are sand (much of which I seem to remember was black), and every year the island is whipped by sandstorms which arrive from Africa carrying Saharan sands!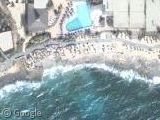 However this does mean that Lanzarote is pretty much the place to go for wind and kite surfing.
Thanks to Amio cajander and Jedi Master Kalimero.