Molecule Man and Hammering Man
Tuesday, 11th July 2006 by Alex Turnbull
Apparently floating on the river Spree in Berlin, the massive Molecule Man casts a striking shadow which leaves you in no doubt what it's a sculpture of. However from ground level you really see how well the illusion is realised.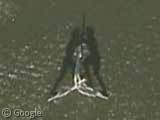 Molecule Man was designed by an American artist Jonathan Borofsky, who is better known for another of his works, Hammering Man. Seen here outside the Seattle Art Museum, Hammering Man is actually a series of sculptures installed in various cities throughout the world, and sometimes (as in Seattle) he's motorised and hammers silently all day long.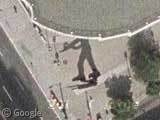 I went looking for Hammering Man in various cities but the closest I could get to finding another one was in Frankfurt, where I think unfortunately he gets a little lost in this building's shadow. Does anyone know where he is in New York, Minneapolis, Los Angeles, Basel (Switzerland) or Washington D.C.?
Thanks to Adrian.