World's Largest 7 Up
Monday, 24th July 2006 by Alex Turnbull
This has got to be the world's largest can of 7 Up, and even better - it's actually full of 246,051 litres (65,000 gallons) of 7 Up!
(OK that's not entirely true. The 19 metre can is actually a water tower, but the water which passes through it really does get turned into 7 Up.)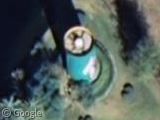 7 Up was launched in 1929 named "Bib-Label Lithiated Lemon-Lime Soda", which was caramel coloured and contained lithium citrate, a mood-stabilizing drug. They changed the name almost immediately, but the psychiatric medicine stayed in until 1950.
More info at Roadside America and Wikipedia.