World's Largest Cow
Friday, 27th July 2007 by Alex Turnbull
It would seem that we have finally reached the absolute pinnacle of our continuing quest to discover the latest and greatest "World's blankest blank", as seen by satellite!
Yes you lucky people, prepare yourselves for... The World's Largest Cow!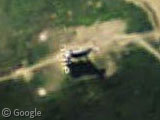 This is actually Salem Sue of New Salem, North Dakota, who is 38 feet high, 50 feet long, and was constructed from six tons of reinforced fiberglass back in '74 for the primary purpose of, um, bigging up the local dairy farmers I guess.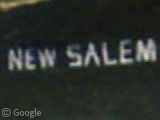 Over in the UK we have our own famous Concrete Cows sculpture, which were created four years after Salem Sue by Canadian-born artist Liz Leyh, but are only about half life size.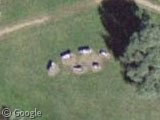 More about Salem Sue at Roadside America and more about Concrete Cows at Wikipedia.
Thanks to Simon Cope and Jason Smith.