Fake City (US Secret Service Training Facility)
Wednesday, 25th July 2007 by Alex Turnbull
Like something out of Blazing Saddles, here's a completely fake city outside of Washington D.C.!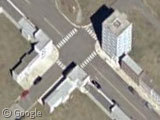 In fact zooming out to see the surrounding area, we can see there's all sorts of odd things here, including driving courses, underground bunkers, some sort of weird runway / skid track thing, and a helipad complete with helicopter beside what looks like, um.. the front of a rocket?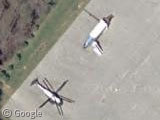 In actual fact this is the US Secret Service James J. Rowley Training Center which officially comprises around 500 acres of land, six miles of roadway and 31 buildings. Unofficially, it also has an obstacle course, simulated airport, firing range, and several outdoor training and tactical response areas.
The not-very-secret Secret Service website says the facility provides an environment:
that promotes critical thinking and innovation in the areas of physical, site and event security, threat assessments, antiterrorist intelligence techniques, emergency preparedness, criminal investigations, protection of critical financial infrastructure, and management development.
Strangley, on Google Maps there's nothing of this facility shown at all on the road map – and on our own map page (which uses the Google Maps API data), the facility is marked as an Agricultural Research Center!
And yet despite the secrecy, you can get an ever closer look at the fake city with Live Map's Bird's Eye View.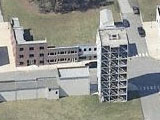 Thanks to Rickard Jensen, kjfitz and ZedNaught.