World's Largest… Erection.
Friday, 20th July 2007 by Alex Turnbull
I'm sorry to report that I don't mean any old structure either... nope, this is honestly claimed by the Chinese to be The World's Largest Phallus. At least I think this is it - as you can see the satellite shot isn't vey clear. To make up however, here's a gratuitous ground-level photo!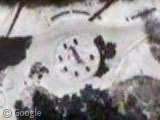 The 9 metre erection (30 feet), is named Sky Pillar, and has been built at the Longwan Shaman Amusement Park in Changchun city, and apparently symbolizes the "pursuit of happiness and prosperity".
Which is pretty fitting really huh?
Thanks to kjfitz, read the full story at Ananova.