Floating Swimming Pool
Monday, 23rd July 2007 by Alex Turnbull
This is the Badeschiff or "bathing ship" in Berlin, Germany – an old barge which has been converted into an outdoor swimming pool, actually in the River Spree.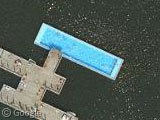 Opened in the summer of 2004, the facilities have proved highly popular as it has allowed Berliners to swim (at least in a figurative sense), in the long polluted and unsanitary Spree. In fact on closer inspection you can see several people swimming when this image was captured.
The 32 metre-long pool also has a bar with DJs until midnight, and is even open all-year-round.
Read more at Wikipedia.
Thanks to Jake.