Baseball Pool
Wednesday, 4th July 2007 by James Turnbull
It's been a while since we've seen a new something-shaped swimming pool here on Google Sightseeing.
So, just in time for the summer holidays, here's a swimming pool in the shape of a Baseball bat with a smaller, ball shaped, jacuzzi pool alongside.
Now a golf resort, this hotel was originally built as a spring training camp for the San Francisco Giants. Other baseball related features are the diamond shaped car park (since expanded) and a tower which resembles a baseball cap.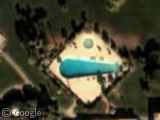 More info on the hotel's history.
Previous pools: Planes, Dolphins, Guitars, Hearts and Swords.
Thanks: Brett