Rum Slick
Friday, 25th August 2006 by Alex Turnbull
Just off the coast of St. Croix, U.S. Virgin Islands, is what looks rather like a Rum Slick – waste from the production of molasses at the nearby Cruzan Rum Distillery.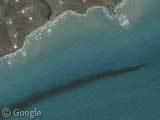 Certainly the dark patch starts directly offshore from the point where the distance is shortest between the distillery and the sea – but surely it would be madness to so obviously pollute such beautiful waters, especially when the island's economy relies so heavily on tourism?
Thanks to Joshua Germany.