Wake Island (Island Week)
Friday, 1st September 2006 by Alex Turnbull
Located in the North Pacific Ocean, Wake Island was an island of great strategic importance during World War II, and over the last few days it's been in the news again, as is it was directly in the path of the oncoming Hurricane Ioke – the strongest hurricane ever recorded in the Central Pacific.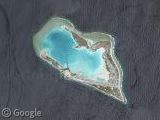 Fortunately all 188 people who live here were evacuated safely by plane before the hurricane arrived, but at around 6am yesterday (August 31st) the island's automated weather station seems to have stopped functioning just before the southwestern eyewall passed over the island.
Some of you PC gamers might well recognise this place, as it's a map in both Battlefield 1942 and Battlefield 2! So perhaps those people can tell us what this strange thing is, or if in fact this really is a bridge which has been partially washed away?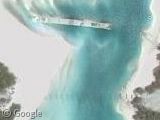 Thanks to Reek of Putrefaction, Roy and Lee Bennett.