Giant Teddy Bear and the World's Shortest River
Wednesday, 4th October 2006 by Alex Turnbull
Amongst several other interesting kite-shadows here at the Lincoln City Summer Kite Festival, Oregon, is the perfect outline of a giant sky-blue teddy bear!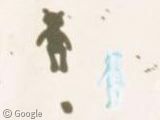 The huge flying teddy is 12 metres long, and you can actually pick one up in your own choice of colour for only 6,000 New Zealand dollars (about 4,000 bucks, or 2,000 quid), although it's extra to have your own design printed on his shirt.
Hmmm . . . perhaps we could promote our new book with a 'Google Sightseeing Bear'!
(Shameless plug over.)
Also in this area is the D River, which Oregon reckons is the shortest river in the world – whereas the Guinness Book of World Records states that the Roe River in Montana is the shortest at 61 metres. Either way, I think Oregon is understating the length of their river, as 36 metres (or 3 Giant Teddy Bears) looks completely wrong to me!
Wikipedia: D River, Roe Rover.
Thanks to Jim Martin, Tim Forsyth and Andy.