World's Smallest Parks
Wednesday, 24th January 2007 by Alex Turnbull
The state of Oregon has not just one, but two of the smallest municipal parks in the whole world.
The first, Waldo Park in Salem, is only 3.6 by 6 metres and only contains a plaque, and a giant sequoia. Yes, one of the world's smallest parks contains an example of the largest type of tree on the face of the planet.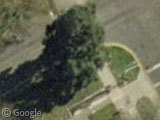 Mill Ends Park in nearby Portland is contained within a circle 61cm across, which sadly makes it almost completely invisible on the Google satellite shot (Look closely however, it's situated right inbetween the two roads, and appears as a dark spot exactly in the centre of our thumbnail).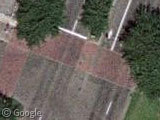 The park was created on St. Patrick's Day 1948 (apparently to serve as "a colony for leprechauns and a location for snail races"), and despite the odds, in 1971 Mill Ends Park was officially recognised by the Guinness Book of Records as the world's smallest park.
Further reading: The history of Waldo Park and Mill Ends Park at Wikipedia, and our post featuring The World's Shortest River.
Thanks to John Riggs.