Heathrow Terminal 5
Tuesday, 3rd October 2006 by James Turnbull
With the recent image updates to central London we can see how they're getting on with the controversial Terminal 5 at Heathrow Airport.
The aerial image was taken earlier this year and although there's been some progress they still have a lot of work to do before it whole thing opens in 2011, by which point BAA will likely have spent over £4.2 billion.
These days that sort of money buys you 60 aircraft stands, 2 satellite terminals, a new control tower, a new motorway junction, a 4000 space car park, a new hotel, bored tunnel rail links, diversion of two rivers and the design of a roundabout to say "T5".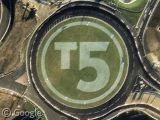 Thanks: Adam