Jumbolair
Tuesday, 17th October 2006 by James Turnbull
Jumbolair Aviation Estates near Ocala in Florida is probably the most famous of the U.S.'s near 500 fly-in communities, a few of which we've previously featured.
It first gained media attention thanks to the efforts of the eccentric Arthur Jones who populated the place with his Jumbo jets, elephants, gorilla and the world's largest crocodile in captivity.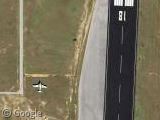 However the animals are no longer there, instead replaced by flying nut (and all-round nut) John Travolta, after he was thrown out of his previous abode at Spruce Creek Fly-In Community (which incidentally features in The Google Sightseeing Book).
It's claimed that the reason the residents of Spruce Creek wanted rid of Travolta was the excess noise produced by his Boeing 707, called Jett Clipper Ella. The 1964 former Qantas airliner was previously owned by Frank Sinatra, and was painted in the classic V-Jet colours in return for Travolta lending it to Qantas for a round-the-world tour.
Travolta's residence is obvious, being the largest and right next to the runway. The 707 is parked under the southern canopy but the disco king himself must be out and about, as the smaller Gulfstream II Jet which resides in the northern canopy is missing.
More info on Jumbolair, Travolta's 707 and his house.