Multi-Coloured Guitars
Monday, 27th November 2006 by Alex Turnbull
At the Memphis-Days Inn At Graceland there's a big blue guitar (yes, of course it's a pool - here's ground-level shots).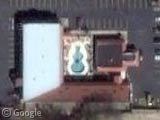 And all the way over in Tamworth, New South Wales, Australia, there's the Big Golden Guitar, which is exactly that - a big gold guitar. There's a ground-level picture on the official site of the Big Golden Guitar Tourist Centre, which is the location for Australia's Tamworth Country Music Festival.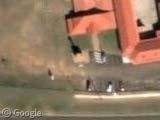 You can see previously-featured guitars here at Google Sightseeing, and I recently read about a huge piano-shaped pool in Florida... Can anyone find it?
Thanks to Mary and our resident Australian expert, woowoowoo.