Time Travelling Dinosaurs
Friday, 17th November 2006 by Alex Turnbull
It's time travelling time at GSS, and today we're travelling back to the Jurassic, Late Jurassic and the Pleistocene periods, all at the same time!
Yes you heard me right, as here in the Plänterwald leisure area, Berlin, we can see what appears to be a Diplodocus (from around 200 million years ago), a Stegosaurus (146 million years ago), and a Mammoth (from a relatively tiny 1.6 million years ago) all enjoying a nice day out.
Honestly, I bet they're not even anatomically correct...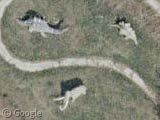 More about the unfathomable enormities that are Geologic time periods at Wikipedia.
Thanks to dda.