Best Google Earth Image update EVER!
Sunday, 17th December 2006 by James Turnbull
Just after yesterday's announcement of New Google Earth version 4 betas the team have sneaked out another, as yet unannounced, imagery update.
Although it's not clear where has or hasn't been updated it is already clear that this is the best update EVER. Why? This update includes recent high-resolution images from Scotland's capital city, and home of Google Sightseeing HQ, Edinburgh!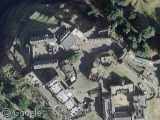 As usual the images haven't made their way into Google Maps yet, but I'm sure it won't be long.
Update: The imagery update now been officially announced (along with a terrain update), here's the rundown:
Digital Globe updates all over the globe with the most notable being large content additions in Somalia and Australia
Updated US states: Indiana and Delaware
Miscellaneous high res cities and counties in North America: Monterey Bay, CA; Yakima County, WA; Summerland, Canada; Greater East Wenatchee, WA; Polk County, IA; Warren County IA; and Bay County, FL
Small high-res updates in the UK (Swansea, Edinburgh, Doncaster, Gwent) and expanded London coverage
High-res update in Bremerhaven, Germany.
Newer imagery for Lanzarote (Canary Islands)
Google Earth Blog-supplied XPrizeCup flyover and the Sanford, NC airport
Cabo San Lucas, Mexico
Foo Camp @ O'Reilly Headquarters in Sebastapol, CA