USS Ohio (October 07 Image Update)
Thursday, 11th October 2007 by James Turnbull
This is the USS Ohio, an Ohio class submarine cruising along the US/Canada border in the Straight of Juan de Fuca. Flanked to the north and south, it looks like it has its missile tubes open, as seen in this image.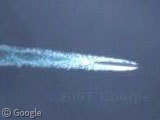 The best thing about the appearance of this sub is that it tells us that the October 07 image update has finally made it onto Google Maps! Expect lots of exciting new posts, and get submitting your sights!
More about the Ohio class submarines at Wikipedia.
Thanks: DelPeiro & pooms